AWARDS:
Florida Arts Council's Individual Artist Fellowship

The Sarasota County Arts Council's John Ringling Fellowship Grant

The Human Race Theatre's production earned the following Daytony Awards, Dayton's Tony Awards:
Ø Best Overall Production
Ø Best Performance in a Guest Role (Danielle Lee Greaves)
Ø Best Direction (Schele Williams)
Ø Best Musical Direction (Scott Woolley)
Ø Best Musical Arrangements (Scott Woolley)
Ø Best Sound Design (Matthew P. Benjamin)
Ø Costume Design (Lowell A. Mathwich)
Ø Light Design (John Rensel)
---
1 African-American Actress/Singer
1 Piano Player
1 set
SYNOPSIS:
Ethel Waters was born in a Philadelphia slum, the result of her unmarried mother's being raped at 12 years old. The trauma drove her mother to the edge of insanity, which stayed with her all her life. Ethel grew up alone with the only mainstay of her life being her grandmother, whom she called Mom.
Ethel learned to steal food and clothes to survive, but along the way, she learned to sing, too. When her grandmother died, Ethel's biological mother "gave" her to an older man to marry. Ethel, just 13 years old, was terrified of marriage, and her life grew worse when her husband started beating her and accusing her of having affairs behind his back. Drawing upon a strength of faith within herself that she did not know she had, she left her husband and set out on her own, singing and dancing in vaudeville and determined to take care of herself at the age of 14. She knew her showbiz gigs would not last, though, so she dreamed of a day she could be a maid to a wealthy white woman, the highest she could imagine herself aiming.
She underestimated her own talent and was catapulted into a successful show business career that included work in vaudeville, recording, Broadway, and movies, where critics praised her and audiences loved her. Plaguing her throughout her life was always the uncertainty of being a bastard born into a cold world, and she grew distrustful and suspicious of people with whom she worked.
In the south, she was involved in a car accident where she was left to die by white racists. A lynched child was thrown into the lobby of a theater where she worked. In reaction, Ethel became an avowed racist.
Soon she had a reputation for being difficult, and no one in show business wanted anything to do with her, despite the fact that she had a stellar career and was even nominated for an Academy Award.
Suspicious, mistrusting, and all alone, Ethel withdrew into her apartment, where she must face the most-difficult decision of her life: remain a withdrawn has-been, or take a leap of faith in her God and in a man who promises to deliver her from her woes, help from a most unlikely source. But before she can accept God in her heart and join with Billy Graham, she must recognize and deal with her own racism.
---
What the critics say about ETHEL WATERS: HIS EYE IS ON THE SPARROW:
"ETHEL WATERS: HIS EYE IS ON THE SPARROW is one of the hottest new shows in American Theater." The Carolina Peacemaker.

"I've seen a lot of one-person shows over the years, on subjects from Diana Vreeland to Theodore Roosevelt, and this is easily one of the best. It's a pleasure to learn the Waters story this way: lots of facts, lots of songs, and not least of all, a notable respect for the truth, however inconvenient or unlikely."Parr is prolific and abundantly talented. He knows how to hold an audience's attention for two hours. HIS EYE IS ON THE SPARROW is a delightful, persuasive introduction to Waters' life that never gets mawkish, and that repeatedly surprises with just the right unexpected detail. In an area without many serious playwrights, it's a pleasure to discover Parr operating at the top of his game. Good work, Larry Parr. Keep growing and writing. And we'll keep our eyes on one of this area's most-skillful authors." Mark E. Leib, Weekly Planet.

"Let's get right to the point. Florida Studio Theatre's production of ETHEL WATERS: HIS EYE IS ON THE SPARROW is a must see. Larry Parr has movingly portrayed more obstacles than any human being should have to endure. Playwright Parr records Ethel Waters' rags-to-riches life with a compelling script and songs from the memorable repertoire performed by Waters throughout her career. Each song recalls the joy and sorrow that reflected the performer's life. Parr does a remarkable job in taking us through the 77-year life of Ethel Waters. Some of his dialogue is lyrical. This is a terrific show. See it." Wayne Barcomb, Pelican Press.

"Should you see it? Don't miss it. Your emotions are going to run the gamut. None of it would have been possible without the great mind of playwright Larry Parr." Kay Pruden, The Herald.

"Ethel Waters' life is revealed and seamlessly and organically interwoven with Waters' signature songs: STORMY WEATHER; HIS EYE IS ON THE SPARROW; BLACK AND BLUE, among them. The effect is like weaving two different kinds of cloth in a tapestry. The songs color the biography, the biography colors the songs.
"It's a stunning performance of a stunning script. Along with songs that cut you to your heart, you get both a sense of Ethel Waters' character and the history she lived through. You come through that history with a sense of triumph, but there's a lot of pain before you get there. You feel both the pain and the triumph. That's a sign of how true to life the play is." Marty Fugate, The Observer.

"As he did in previous shows about Actress Hattie McDaniel and singer Alberta Hunter, the Sarasota playwright tells a dramatic and often painful story about a woman who triumphs over great adversity." Jay Handelman, Sarasota Herald-Tribune.

"Playwright Larry Parr has crafted a tight narrative that follows Waters from illegitimate child and self-conscious teenager rushed into a distasteful marriage to a successful but bitter woman redeemed along the way by shining talent and indomitable will. It illuminates while it entertains and offers some profound observations on this American life." Anita Donovan, The Times, Philadelphia.

"Larry Parr's script plumbs Waters' life more deeply than the usual stage biography and the stories it tells are more complex." Howard Shapiro, Philadelphia Inquirer.

"The result was the best that theater can offer. The audience entered knowing Ethel Waters as a mythic name. They left knowing Ethel Waters, knowing her well and never forgetting her and her tale of woe and triumph." Burt Saidel, The Oakwood Register, Dayton, Ohio.

"Larry Parr's one-woman play with music, ETHEL WATERS: HIS EYE IS ON THE SPARROW, a funny, heartbreaking, and uplifting account of the legendary singer/actress, is an emotionally stirring experience not to be missed. Parr's brave, earthy text fluidly chronicles Waters' harsh upbringing in Philadelphia, her rocky love life, frequent bouts with racism and depression, Oscar-nominated acclaim, and signature performances at Harlem's Cotton Club and on Broadway." Russell Florence, Jr., Dayton City Paper, Dayton, Ohio.

Current Theater in the Square play should be required viewing
Everybody should be required to see "His Eye Is On The Sparrow" currently running at Theater in the Square in Marietta. Of course, everybody in this country can't get into the Theater in the Square before the play finishes its run at the end of May, but maybe the people in charge could extend its stay for a few decades or so.

It is that good.

The play is about the late Ethel Waters, a blues singer and fine actress who finished out her career singing on the Billy Graham Crusades in the '50's and '60's. But it is more than that. It is about race relations and what kind of world this would be if there were more Ethel Waters and Billy Grahams operating in this world today.

According to the play by Larry Parr, Ethel Waters grew up illegitimate, angry and poor in one of Philadelphia's worst areas and confronted racism in her unrelenting drive to the top of the business that makes you wonder how civilized a nation we really were back then. (She showed up for a performance in Macon and a young black boy was lynched and left in the theater lobby where she was to play.)

This understandably led her to mistrust all whites to the point where she saw every white person as racist, thus turning into a racist herself.

Enter Billy Graham who began encouraging her to sing at his crusades. (One can only wonder how many lives this great man has impacted in his career.) Waters resisted until she woke up one day and found she didn't like any-thing about herself anymore. Graham convinced her that the color of one's skin didn't matter to him and certainly didn't matter to God.

What made the performance so remarkable to me — besides an electric performance by Atlanta Bernadine Mitchell and an exceptional pianist named Renee Clark — was seeing blacks and whites interspersed throughout the theater laughing at the same lines and chatting with each other during the intermission. We had all found common ground for a brief couple of hours. We had all been reminded that it is not the color of our skin that is important, it is the fact that we are all God's people— black and white.

We all left the theater — some wiping away tears — and no doubt will quickly fall back into our routines of looking at each other with suspicion and complain about the other's racism, sometimes with justification.

But for a couple of magic hours, we were all one group of Americans enjoying something in common — a dynamite play.

It should be required viewing by everybody in the land.. We would all be better for it. Dick Yarbrough, Marietta Daily Journal

"As ETHEL WATERS: HIS EYE IS ON THE SPARROW shows us, Ethel Waters' life was far more complex than her Billy Graham image. It's a show that will entertain you, enlighten you, and inspire you. Your eyes might well be filled with tears after such a moving, powerful play." Lynn Jessup, Classical Voice of North Carolina.

"It just doesn't get any better than HIS EYE IS ON THE SPARROW. It is a moving, uplifting, and inspirational story interspersed with many pieces of humor and song. Audience members around us were in tears at the end of this show." Fred Shaw, Smoke Signals.

"ETHEL WATERS: HIS EYE IS ON THE SPARROW is particularly important not only as an incredible work of art, but as a biography, and a striking historical account. There is an incredible symbiotic relationship between the drama and the music, with each enhancing the other. Waters' songs never took you out of the drama. Rather, they offered insight into it by showing you the soul behind the song. Likewise, the drama provides additional context for the songs, enriching their meaning. This play reiterated for me the power of the arts. The play is powerful. It chronicles a story of incredible strength and guts that Waters possessed that allowed her to rise out of the slums of Philly to become a global success, yet it also shares Waters' vulnerabilities." Suzanna McCulley, Arts This Week, Greensboro, NC.

"Larry Parr's one-woman musical is more than just sheer biography or melodic revue -- it's a rare and intimate portrait of the great Harlem Renaissance in microcosm, pairing one singer's endless struggles with those of an entire generation of "new" talent striving to prove their worth on the American soundstage. In this particular instance, not only did Waters crack open the door for other jazz and blues singers of her time, she broke down racial barriers in her refusal to be treated as anything less than an artistic equal.
Parr paints an exceptional biography, infusing humor and pathos to the near-incredulous story of Waters' rise to fame, but what's so remarkable about his script is its ability to seamlessly weave together Waters' well-known history with her humanity, blending the professional and spiritual journeys encountered in her lifetime. Though she had more than earned the reputation as a backstage firebrand -- she was often labeled as downright "difficult" -- Parr reveals a conscientious woman haunted by her past and keenly aware of her present." The Washington Examiner..

"It's a hallowed story wrapped in the glorious vocals, tender expressions and captivating style of Sistah Bernardine. It's a blessing waiting to happen. Thanks to Parr, we are able to bask in the presence of yet another nearly forgotten treasured artist, and this portrayal is a gift that can keep on giving." The Washington Post.

"Texas Family Musicals presents a very intense performance by Jen Percival in HIS EYE IS ON THE SPARROW -- THE ETHEL WATERS STORY. It sold to near-capacity houses and received quick and long standing ovations at each performance. It was written by one of the finest American playwrights, Larry Parr." Uptown Theater in Grand Prairie,TX.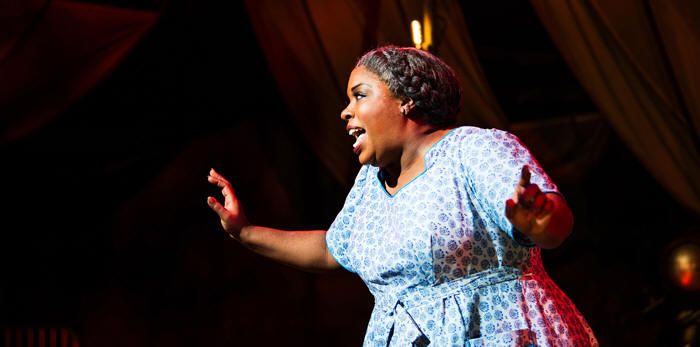 Maiesha McQueen as Ethel Waters in His Eye is on the Sparrow at The Armory. Photo by Patrick Weishampel/blankeye.tv.
Powerful and Brooding
"The character of Waters, in the play that Larry Parr writes and McQueen interprets with relentless fervor and flashes of sharp dark wit, was created from the extreme poverty of her upbringing and her acute understanding of the crude and seemingly intractable racism that drove almost everything about the culture she lived in. ... it's a powerful story to tell, and McQueen and Smith deliver it with passion and deep musicality." -Oregon ArtsWatch
Expansive and Tender
"McQueen has that rare ability to hold a room full of people in the palm of her hand. With a mezzo-soprano capable of big bottom notes and delicate top notes, she is an actor of penetrating talent. This is a quiet play, emotionally intimate, tracing the painful life of a woman from childhood to a triumphant performance at Madison Square Garden. ... McQueen's performance is raw and lavish and divine." -EDGEMedia
Beautifully Performed
"I loved the whole of McQueen's performance. She's funny and heartbreaking and brassy and dynamic and again, again, so authentic. ... what happens during the play: you feel lifted up. By Ethel Waters' music, her truth, her hilarious barbs, her persistence." -Ut Omnia Bene
Here's what people are saying on Facebook:
"Heartbreaking and uplifting, it's a story I did not know and one that is so relevant now. Maiesha McQueen is outstanding"
"The most moving play I've ever seen. Everyone should see it."
"What a beautiful and powerful story! Soulfully sung, and expertly played, the two actors and the unflinching story all combine to create a storytelling of immense magnitude."
"Just saw this amazing, powerful performance! Ms. McQueen is superb! Go see this show!"
"This show and Ms. McQueen were quite simply exceptional!"